HOW IMPORTANT IS RESILIENCE IN OUR LIFE?" 
Greetings to all from your Spokane County Sheriff Chaplaincy Team,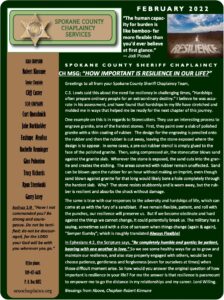 C.S. Lewis said this about the need for resiliency in challenging times, "Hardships often prepare ordinary people for an extraordinary destiny." I believe he was accurate in his assessment, and have found that hardships in my life have stretched and molded me in ways that helped me be ready for the next chapter of this journey. 
One example of this is in regards to Stonecutters. They use an interesting process to engrave granite, one of the hardest stones. First, they paint over a slab of polished granite with a thin coating of rubber. The design for the engraving is penciled onto the rubber and then the rubber is cut away, leaving the stone exposed where the design is to appear. In some cases, a pre-cut rubber stencil is simply glued to the face of the polished granite. Then, using compressed air, the stonecutter blows sand against the granite slab. Wherever the stone is exposed, the sand cuts into the granite and creates the etching. The areas covered with rubber remain unaffected. Sand can be blown upon the rubber for an hour without making an imprint, even though sand blown against granite for that long would likely bore a hole completely through the hardest slab. Why? The stone resists stubbornly and is worn away, but the rubber is resilient and absorbs the shock without damage. 
The same is true with our responses to the adversity and hardships of life, which can come at us with the fury of a sandblast. If we remain flexible, patient, and roll with the punches, our resilience will preserve us. But if we become obstinate and hard against the things we cannot change, it could potentially break us. The military has a saying, sometimes said with a slice of sarcasm when things change (again & again), "Semper Gumby"; which is roughly translated Always Flexible! 
In Ephesians 4:2, the Scripture says, "Be completely humble and gentle; be patient, bearing with one another in love." So we see some healthy ways for us to grow and maintain our resilience, and also stay properly engaged with others, would be to choose patience, gentleness, and forgiveness (even for ourselves at times) when those difficult moments arise. So how would you answer the original question of how important is resilience in your life? For me, the answer is that resilience is paramount to empower me to go the distance in my relationships and my career. Lord Willing. 
Blessings from Above, Chaplain Robert Kinnune