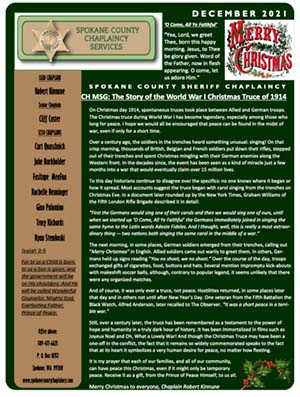 CH MSG: The Story of the World War I Christmas Truce of 1914
For to us a Child is born, to us a Son is given, and the government will be on His shoulders. And He will be called Wonderful Counselor, Mighty God, Everlasting Father, Prince of Peace.

Isaiah 9:6
On Christmas day 1914, spontaneous truces took place between Allied and German troops. The Christmas truce during World War I has become legendary, especially among those who long for peace. I hope we would all be encouraged that peace can be found in the midst of war, even if only for a short time.
Over a century ago, the soldiers in the trenches heard something unusual: singing! On that crisp morning, thousands of British, Belgian and French soldiers put down their rifles, stepped out of their trenches and spent Christmas mingling with their German enemies along the Western front. In the decades since, the event has been seen as a kind of miracle just a few months into a war that would eventually claim over 15 million lives.
To this day historians continue to disagree over the specifics: no one knows where it began or how it spread. Most accounts suggest the truce began with carol singing from the trenches on Christmas Eve. In a document later rounded up by the New York Times, Graham Williams of the Fifth London Rifle Brigade described it in detail:
"First the Germans would sing one of their carols and then we would sing one of ours, until when we started up 'O Come, All Ye Faithful' the Germans immediately joined in singing the same hymn to the Latin words Adeste Fideles. And I thought, well, this is really a most extraor- dinary thing -– two nations both singing the same carol in the middle of a war."
The next morning, in some places, German soldiers emerged from their trenches, calling out "Merry Christmas" in English. Allied soldiers came out warily to greet them. In others, Germans held up signs reading "You no shoot, we no shoot." Over the course of the day, troops exchanged gifts of cigarettes, food, buttons, and hats. Several mention impromptu kickabouts with makeshift soccer balls, although, contrary to popular legend, it seems unlikely that there were any organized matches.
And of course, it was only ever a truce, not peace. Hostilities returned, in some places later that day and in others not until after New Year's Day. One veteran from the Fifth Battalion the Black Watch, Alfred Anderson, later recalled to The Observer. "It was a short peace in a terrible war."
Still, over a century later, the truce has been remembered as a testament to the power of hope and humanity in a truly dark hour of history. It has been immortalized in films such as Joyeux Noel and Oh, What a Lovely War! And though the Christmas Truce may have been a one-off in the conflict, the fact that it remains so widely commemorated speaks to the fact that at its heart it symbolizes a very human desire for peace, no matter how fleeting.
It is my prayer that each of our families, and all of our community, can have peace this Christmas, even if it might only be temporary peace. Receive it as a gift, from the Prince of Peace Himself, to us all.
Merry Christmas to everyone, Chaplain Robert Kinnune