"Don't let unforgiveness grow within you"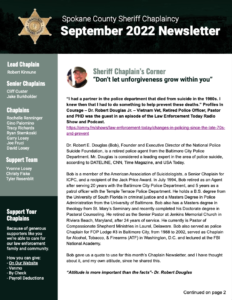 "I had a partner in the police department that died from suicide in the 1980s. I knew then that I had to do something to help prevent these deaths." Profiles In Courage – Dr. Robert Douglas Jr. – Vietnam Vet, Retired Police Officer, Pastor and PHD was the guest in an episode of the Law Enforcement Today Radio Show and Podcast.
https://omny.fm/shows/law-enforcement-today/changes-in-policing-since-the-late-70s-and-prevent
Dr. Robert E. Douglas (Bob), Founder and Executive Director of the National Police Suicide Foundation, is a retired police agent from the Baltimore City Police Department. Mr. Douglas is considered a leading expert in the area of police suicide, according to DATELINE, CNN, Time Magazine, and USA Today.
Bob is a member of the American Association of Suicidologists, a Senior Chaplain for ICPC, and a recipient of the Jack Price Award. In July 1994, Bob retired as an Agent after serving 20 years with the Baltimore City Police Department, and 5 years as a patrol officer with the Temple Terrace Police Department. He holds a B.S. degree from the University of South Florida in criminal justice and a Masters Degree in Police Administration from the University of Baltimore. Bob also has a Masters degree in theology from St. Mary's Seminary and recently completed his Doctorate degree in Pastoral Counseling. He retired as the Senior Pastor at Jenkins Memorial Church in Riviera Beach, Maryland, after 24 years of service. He currently is Pastor of Compassionate Shepherd Ministries in Laurel, Delaware. Bob also served as police Chaplain for FOP Lodge #3 in Baltimore City, from 1988 to 2002, served as Chaplain for Alcohol, Tobacco, & Firearms (ATF) in Washington, D.C. and lectured at the FBI National Academy.
Bob gave us a quote to use for this month's Chaplain Newsletter, and I have thought about it, and my own attitude, since he shared this.

"Attitude is more important than the facts"- Dr. Robert Douglas
He wants us to know that if you have the right attitude, you can always overcome, and that no matter what your circumstances are there is no need to feel hopeless with the help of God and the Holy Spirit.
Dr. Douglas tells us of a specific story that undergirds the truth on how we can overcome all feelings of hopelessness and choose to cultivate the right attitude no matter what! Here is the story he shared at a suicide prevention seminar in Spokane County a few months ago.

A police officer was shot 5 times at point blank distance in a police car by a robbery suspect. The officer lived, but had to go out on disability and suffered from acute PTSD. While reading, he came across Matthew 6:14-15 "For if ye forgive men their trespasses, your heavenly Father will also forgive you: But if ye forgive not men their trespasses, neither will your Father forgive your trespasses." He realized he had never really forgiven the suspect who had shot him and left him for dead. He dialed the warden where the man was serving his life sentence and requested to speak with him. At first the man refused, questioning why the police officer wanted to see him. Finally, he decided to see him. When he met the man in prison after many years of anger and bitterness, he sat down told him how Jesus had restored his life of pain and suffering and replaced it with peace and purpose. He told him he forgave him for trying to kill him that day and he would pray that he would find Jesus Christ as he did. One day he received a call from the warden stating the inmate wanted to visit him. When the inmate met the officer, he shared that he had sought forgiveness from Christ for shooting him and that he was sorry for his actions that day. The officer stated that he took the inmate's hand and prayed to Jesus Christ for bringing them together.

My friends, in every area of our life, forgiveness is the antidote for the painful issues that we can find ourselves carrying around with us in our relationships and in our hearts. If left untended, these areas of unforgiveness can continue to grow in toxicity and then have the potential to make us bitter and even feel hopeless. I lovingly urge each of us to tend to these areas in our own life and in our relationships, by first realizing how much God has forgiven us. Then make a deliberate decision to forgive those in your life who have wronged you. We see this in 1 Peter 5:7 Cast all your anxiety upon Him because He cares for you. Afterward, you and I will begin to notice something taking the place of the bitterness, a strong and growing sense of peace followed by the right attitude. This new attitude is one that the cares of this world cannot steal away from us.
If you do need someone to speak confidentially with, please know you can reach out to any of our Sheriff Chaplains and you can also call Dr Robert Douglas (863-875-2298) as well. Grow your support team with those who love and care for you, and know that God wants to be invited onto that team!
Blessings from Above, Ch Robert Kinnune