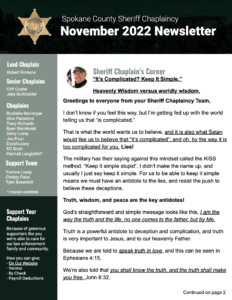 Greetings to everyone from your Sheriff Chaplaincy Team,
I don't know if you feel this way, but I'm getting fed up with the world telling us that "is complicated."
That is what the world wants us to believe, and it is also what Satan would like us to believe that "it's complicated"; and oh, by the way it is too complicated for you. Lies!
The military has their saying against this mindset called the KISS method. "Keep it simple stupid". I didn't make the name up, and usually I just say keep it simple. For us to be able to keep it simple means we must have an antidote to the lies, and resist the push to believe these deceptions.
Truth, wisdom, and peace are the key antidotes!
God's straightforward and simple message looks like this, I am the way the truth and the life, no one comes to the father, but by Me.
Truth is a powerful antidote to deception and complication, and truth is very important to Jesus, and to our heavenly Father.
Because we are told to speak truth in love, and this can be seen in Ephesians 4:15.
We're also told that you shall know the truth, and the truth shall make you free. John 8:32.
As a community, truth is the simple and powerful choice for us to be able to be a Blessing to each other; in our families, in our homes, in our work environment, and everywhere that God has us.
Truth, and knowing truth, and speaking truth are all paramount in our life journey.
So, I encourage us to think about a couple of truths that we can rest in. Pause and think of these truths. I hope each of us find lasting hope in even just thinking about steadfast truth that leads us to peace.
Thank you for taking that time to dwell on those truths, and I ask you all to prayerfully ask God to help us discern falsehood from truth.
Please take a look with me at James 3:13-18.
Heavenly Wisdom Versus Demonic wisdom
13 Who is wise and understanding among you? Let him show by good conduct that his works are done in the meekness of wisdom. 14 But if you have bitter envy and self-seeking in your hearts, do not boast and lie against the truth. 15 This wisdom does not descend from above, but is earthly, sensual, demonic. 16 For where envy and self-seeking exist, confusion and every evil thing are there. 17 But the wisdom that is from above is first pure, then peaceable, gentle, willing to yield, full of mercy and good fruits, without partiality and without hypocrisy. 18 Now the fruit of righteousness is sown in peace by those who make peace.
The Word of The Lord. Amen. Here are a few takeaways for us.
God's wisdom leads to harmony and peace, while human wisdom can lead to arrogance and dissension.

What kind of wisdom do you tend to rely on? You could answer the question by evaluating your relationships.

James was known as a peacemaker, so he stresses the importance of peace (are you and I stressing this importance?).

We should create a climate of peace wherever we go. 

Remember the Lord Jesus promised us that God will bless the peacemakers (in Matthew 5:9)
Friends, are we peacemakers? I pray so. Yet each one of us must answer that question for ourselves. 
Think about what you will do this coming week to promote peace? 
Pause….see what God places on your heart…
Let's all commit to taking these steps of peace, and be steadfast in our resolve to raise the level of peace with every opportunity we have.
There is a story called Burned Biscuits that I heard on my second deployment to the Middle East. One of the things that was memorable to me was how it pointed this out "Don't put the key to your happiness in someone else's pocket – keep it in your own." This wonderfully encapsulates some valuable ideas on how we can be peacemakers and healthy examples as we do so. Please see it here.
As I begin to close out this message, let's decide to be the person that God has created each of us to be. And to use the key antidotes of Truth and Wisdom and Peace to reject the lies of the enemy and reject the complication attempts of this world. 
Because with God, all things are possible. T/F?
True: Including growing in love and truth as we become the coworker/spouse/friend/parent that God has designed and called you to be. 
I ask that we would all step out in Faith and lean on the Lord as we trust Him with all our needs and our entire life-journey. Amen.
Keep it Simple and watch how God responds to this leap of Faith.
Prayer: Heavenly Father, thank You for Your promise that we shall know the Truth and the Truth shall set us free. We claim that promise with great joy. Please grant us the wisdom and discernment we need to stand against the deceitfulness of the enemy, and help us to stand firmly on the solid Rock of Jesus Christ. Lord, help us to sow the fruit of righteousness in peace that we would be Your peacemakers as the hands and feet of Jesus. Hallelujah!
Blessings from Above, Chaplain Robert Kinnune