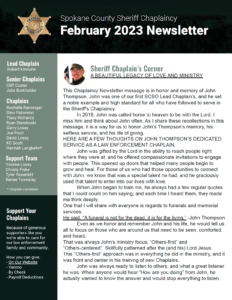 A BEAUTIFUL LEGACY OF LOVE AND MINISTRY
This Chaplaincy Newsletter message is in honor and memory of John Thompson. John was one of our first SCSO Lead Chaplain's, and he set a noble example and high standard for all who have followed to serve in the Sheriff's Chaplaincy.
     In 2018, John was called home to heaven to be with the Lord. I miss him and think about John often. As I share these recollections in this message, it is a way for us to honor John's Thompson's memory, his selfless service, and his life of giving.
HERE ARE A FEW THOUGHTS ON JOHN THOMPSON'S DEDICATED SERVICE AS A LAW ENFORCEMENT CHAPLAIN.
     John was gifted by the Lord in the ability to reach people right where they were at; and he offered compassionate invitations to engage with people. This opened up doors that helped many people begin to grow and heal.
For those of us who had those opportunities to connect with John, we know that was a special talent he had, and he graciously used that talent to enter into our lives with love.
     When John began to train me, he always had a few regular quotes that I could count on him saying; and each time I heard them, they made me think deeply.
One that I will share with everyone is regards to funerals and memorial services.
He said, "A funeral is not for the dead, it is for the living." -John Thompson
     Even as we honor and remember John and his life, he would tell us all to focus on those who are around us that need to be seen, comforted, and heard.
That was always John's ministry focus; "Others-first" and "Others-centered". Skillfully patterned after the (and his) Lord Jesus.
This "Others-first" approach was in everything he did in the ministry, and it was front and center in his training of new Chaplains.
     John was always ready to listen to others; and what a great listener he was. When anyone would hear "How are you doing" from John, he actually wanted to know the answer and would stop everything to listen.
     I remember coming back from my first 2 deployments, and John made sure that he and I sat down together just to allow me the time to vent/talk/share with him; and John's steady eye contact, gentle questions, and kind spirit helped me get things out that I may not have ever shared; and that time with John helped me cope with, and learn to carry the ugliness of war in a healthier way (and to help others do the same).
     Then he would say to me, as we walked to the car; "Let me know when you're ready to get back to work." And give me that smile of his.
     If you received that smile from John, or anyone who showed unconditional love, you know how impactful it can be. Many of us experienced this love and kind spirit from John. So let's decide, here and now, to keep giving that blessing of true-gentle-kindness to each other.
     John was always ready to pray for others; give to others; care for others; teach others; spend time with others; and to love others.
This was only able to work, because John had a truly genuine interest in the lives of other people; and when you talked with him, you knew it was real. This genuine love for people equipped him to be the man God created him to be; one of the best Chaplains/Mentors I have ever served with anywhere.
     Another thing John believed in was the Chaplaincy Ride Alongs. I believe that everyone who had the chance to have John ride with you might agree that God worked through him in those cherished moments together.
     John had a wonderful laugh that was able to, almost instantly, put people at ease; he had a way to make people feel like they could relax and be comfortable around him. He was easy to trust; because he was trustworthy.
     John told me that people may not remember your name; and they may not remember what you say to them; but they will remember how you make them feel. John made me feel better every time he engaged with me in his caring ways; and I have heard from so many that he did the same for them.
     So, in those divine intervention moments where God placed John, he was able to speak life into some of the most challenging moments of people's life and do a sacred work that began the necessary healing; and he freely shared his approaches, skills, and knowledge with every Chaplain he trained.
     Each time I deployed or mobilized with the Army, John always said it wasn't goodbye; and he would only say "see you later".
I use that saying, and so much of what he taught me, all the time. My friends, I am choosing to say that right now; "See you later John".
     John's strength and ability to minister came directly from his personal relationship with Christ; and because of that relationship, I know we'll be together again in heaven when that time comes. I deeply hope and pray that you have that personal relationship with the Lord and Savior Jesus.
     If so, then you can have an eternal joy and everlasting peace that will help you through all the storms and challenges of life; and know that you will see loved ones who have gone before us, like John, again in heaven someday.
     An encouragement for all of us today, is that we can each decide to allow every positive and proactive attribute that we saw and experienced from John Thompson, and others, to be reflected into our life and all our relationships every day. Reach out to others and engage with people in meaningful and genuine ways. We can honor John and his memory in this powerful way.
CHAPLAIN JOHN THOMPSTON HAS LEFT US ALL A BEAUTIFUL LEGACY OF LOVE TO SHARE WITH ONE ANOTHER. THANK YOU JOHN.
Blessings from Above, Ch Robert Kinnune